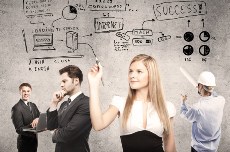 There are many reasons people decide to start a new business. They could be looking for a new career following redundancy. They may have finally built up the courage to put themselves out there and embark on a new venture. They could even have started a business to find a way out of unemployment.
Whatever your reasons, it is important to know that starting a new business will not be easy, but you can guarantee all the hard work and effort will be worth it once your company starts to make a profit. To help you on the road to success, we are offering some questions for you to read to ensure you achieve your goals.
Would You Buy Your Product or Service?
You might have your heart set on your business idea, but would you buy the product or service yourself? If the answer is no, it might be time to step away from the project before you invest your time, money and energy. You can't expect customers to buy a product you are not willing to buy yourself.
What is the Gap in the Market?
You are most likely starting a company based on a gap in the market, or you should be, anyway. Place yourself in the customer's shoes. What can you offer them that no-one else can right now? By offering a service a person can't find elsewhere, you should easily be able to rival your competitors.
For example, Ascot Diamonds realised they must offer the most competitive diamonds and prices in comparison to their rivals, both in-store and online, so they have done just that. The diamond specialists are now regarded as the most carefully selected diamond inventory in the world. So, identify your unique selling point before you invest your life's savings in the new company.
What is Your Brand?
Have you identified your brand? Are you formal and functional or fun and helpful? Who are you aiming your product and service to? What is the gender and age range of your demographic? These questions must come into play when defining your brand, and you should ensure you select a name that not only complements your service but your audience, too.
Have You Considered Tax Law?
Starting your own company means you are now self-employed, so it is essential you understand tax law. There are many tax considerations you must know when starting out, such as registering for VAT, as well as deciding whether to become a sole trader, limited company, partnership or LLP.
Have You Considered Employment Law?
You must read up on employment law if you plan to hire staff. All employers should have knowledge of annual leave, maternity and paternity leave, disciplinary procedures, health and safety regulations and more.
If you haven't considered any of the above, ensure you have a firm idea of your service and operations before you start a new business. Creating a new company will take blood, sweat and tears, but there's no greater feeling than a dream becoming a reality. If you believe in an idea, put everything into the business to ensure it is a success. You'll be glad you did.